Digalox®, a series of digital panelmeters developed and produced in Germany, is now available with a modbus interface.
The RS485 Modbus protocol, developed more than 40 years ago, remains a widespread standard for industrial communication until today. This is why we have included a Modbus RTU interface in our Digalox® models. This ensures both the transmission of all measured values and the display of values from remote devices. The new Digalox® models can be used primarily for monitoring machine and operating data and are particularly suitable for retrofitting, as they can be easily integrated into existing systems thanks to the RS485 Modbus protocol. The flexibly configurable Modbus parameters ensure a hassle-free communication with devices from other manufacturers also. This way, existing machines can be brought up to date with the latest technology.
The new Modbus measurement units for DIN rail mounting supply measurement data for Digalox® displays or processing devices from other manufacturers. They can be attached directly to DIN rails as well as to other surfaces through corresponding holes in the housing.
The DPM72 devices with display and Modbus interface can both transmit the measured values as well as show a total of four parameters from remote devices on the display.
The configuration of the measuring instruments is handled as usual using our free software "Digalox®-Manager".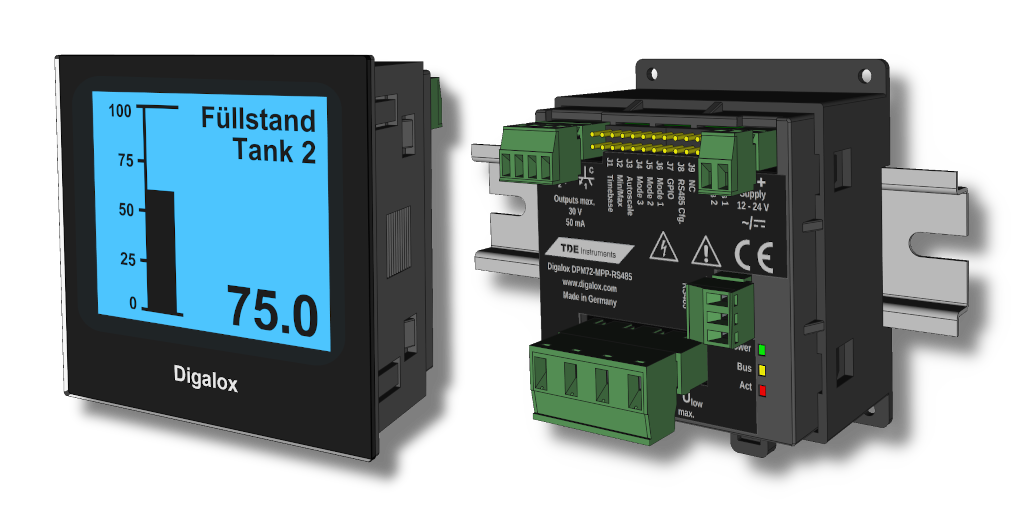 Digalox®-Modbus-RS485-models with display and on DIN-rail