Graphic panel meters with RGB backlight for analogue signal 0/2 - 10 V and/or 0/4 - 20 mA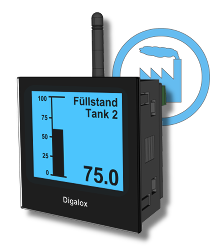 Unique, innovative, and multifunctional: the graphic panel meters DPM72-MPP, -MPPV and -MPPA with RGB-backlight are characterised by extensive functions and display modes. Depending on type the measurement modes analogue signal (2 ×) 0/2 to 10 V and/or (2 ×) 0/4 to 20 mA DC are supported. On the high-quality multi display, up to four parameters can be displayed at the same time and threshold values ​​can be assigned to an individual colour warning, which then draw attention to themselves by coloured lighting or flashing. With a selection of interfaces for individual configuration and the transfer of measurement data in real time, the DPM72 measuring devices are versatile and suitable for a wide range of industrial applications. This enables continuous data transmission via USB or wirelessly via radio (2.4 GHz mesh network) as well as RS485-Modbus. The multifunctional measuring devices are particularly in demand in the area of ​​remote monitoring of machine and operating data, especially since they are also available as a DIN rail version without display. In addition, the models feature a counting function with data retention. This enables operating-hours-counters or time-counters for exceeding and falling below threshold values.
Extensive adaptability
Using the "Digalox® Manager" configuration software, the measuring devices can be set up individually - for example, it is possible to upload own texts or a customer-specific splash screen. Individually adjustable threshold values ​​can be assigned to various colour warnings, for example the display can glow blue or flash red. Scale deflexion and labeling, display designs, as well as measured value scaling and linearization can be adjusted as required.
Graphic display
A high-quality graphic display with 16 grey levels and RGB backlight shows up to four measured values ​​simultaneously in different display modes on the multi display, e.g. with easy-to-read pointer graphics, via digital display or bar graph. Other possible display designs are the popular level indicator or a graphical trend of the measured values.
Switching outputs

Two galvanically isolated alarm outputs enable the device to trigger an alarm as individually adjustable threshold values ​​are reached. The user can be made aware of special events such as exceeding a maximum value by flashing in colour or lighting up.
Interfaces & measurement data recording
Due to a variety of interfaces, the DPM72 measuring devices can be used almost universally. Measured values ​​can be transmitted either via a galvanically isolated USB interface, via RS485-Modbus-protocol or wirelessly using XBEE radio technology (2.4 GHz mesh network). Especially wireless technology enables a hasslefree modernisation of old or technically outdated machines (retrofit).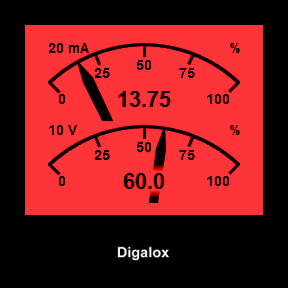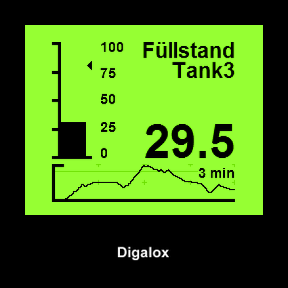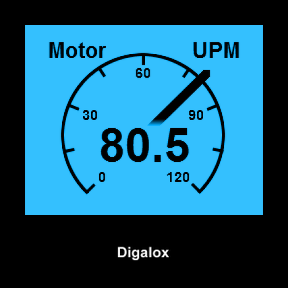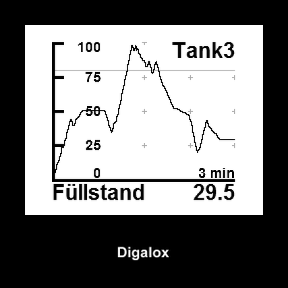 Specification
DPM72-MPP / -MPP-XBEE / -MPP-RS485

DPM72-MPPA / -MPPA-XBEE / -MPPA-RS485

DPM72-MPPV / -MPPV-XBEE / -MPPV-RS485
Supply
12 - 24 V AC/DC ± 10 %
12 - 24 V AC/DC ± 10 %
12 - 24 V AC/DC ± 10 %
Power consumption
max. 2.4 W
max. 2.4 W
max. 2.4 W
Display
LCD graphic display 192 × 160 pixels
LCD graphic display 192 × 160 pixels
LCD graphic display 192 × 160 pixels
Measuring range voltage
±30 V DC, 20 V AC
---
±30 V DC, 20 V AC
Accuracy voltage
±0.5 % true RMS
---
±0.5 % true RMS
Internal resistance voltage
102 kΩ
---
102 kΩ
Measuring range ampere
20 mA AC/DC (max. 100 mA)
20 mA AC/DC (max. 100 mA)
---
Accuracy ampere
±0.5 % true RMS
±0.5 % true RMS
---
Internal resistance ampere
6.2 Ω
6.2 Ω
---
Recording of measurement
36 seconds to 14 days,
180 internal memory locations
36 seconds to 14 days,
180 internal memory locations
36 seconds to 14 days,
180 internal memory locations
Alarm outputs
2 optocouple outputs max. 30 V, 50 mA
2 optocouple outputs max. 30 V, 50 mA
2 optocouple outputs max. 30 V, 50 mA
Counting function with data retention
Operating-hours-counter, pulse-counter
Operating-hours-counter
Operating-hours-counter, pulse-counter
Available interfaces
USB-Micro-B, XBEE or RS485 Modbus RTU
USB-Micro-B, XBEE or RS485 Modbus RTU
USB-Micro-B, XBEE or RS485 Modbus RTU
Operating temperature
0 °C to +50 °C
0 °C to +50 °C
0 °C to +50 °C
Storage temperature
-20 °C to +70 °C
-20 °C to +70 °C
-20 °C to +70 °C
Dimensions
72 mm × 72 mm
72 mm × 72 mm
72 mm × 72 mm
Panel cut-out
68 mm × 68 mm
68 mm × 68 mm
68 mm × 68 mm
Protection front
IP65 when mounted with gasket (separately available)
IP65 when mounted with gasket (separately available)
IP65 when mounted with gasket (separately available)
Products in the TDE shop
DPM72-MPP / -MPP-XBEE / -MPP-RS485 in the TDE shop
DPM72-MPPA / -MPPA-XBEE / -MPPA-RS485 in the TDE shop
DPM72-MPPV / -MPPV-XBEE / -MPPV-RS485 in the TDE shop